Assurance Warranty for Huawei Devices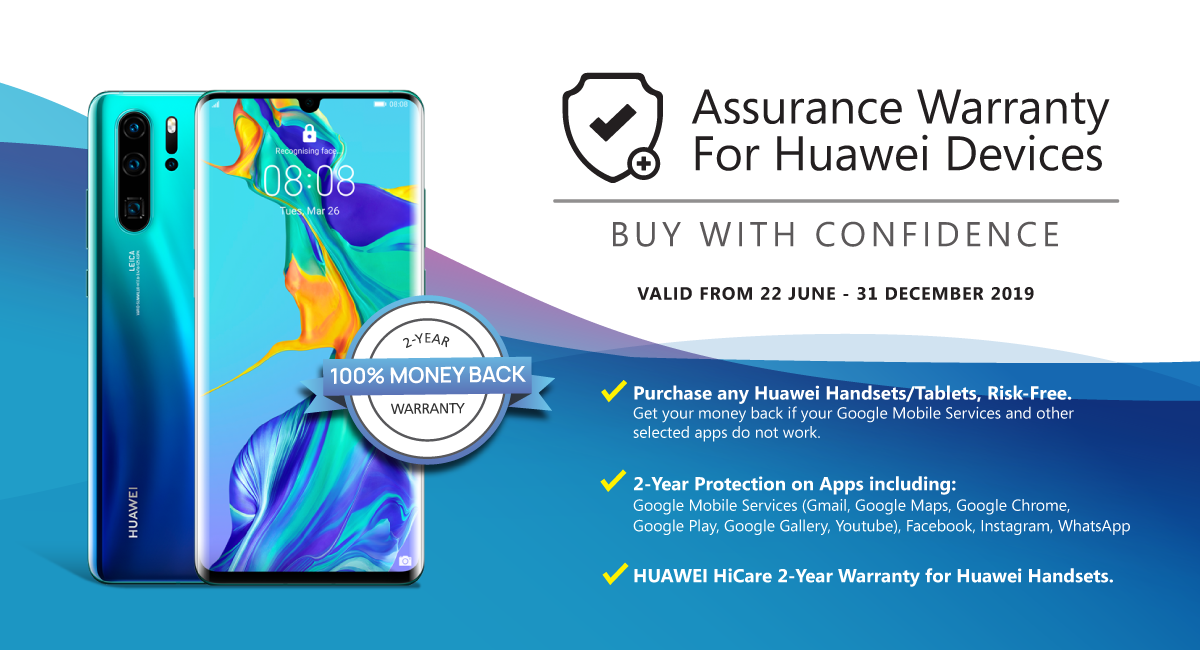 ---
Terms & Conditions

(1) This "Assurance Warranty" program will run from 22 June 2019 to 31 December 2019 ("Program Period").

(2) The customer shall send in his Huawei device to professional Service Centers located at (i) 313 Orchard Rd, #B2-12 / 13, Singapore 238895)and (ii) 3 Gateway Dr, #03-38/39 Westgate, Singapore 608532)for diagnostics and testing, at no cost.

(3) To be eligible for this "Assurance Warranty" Program, the customer's Huawei device shall meet the following criteria:

The Huawei device shall be in its original packaging along with all accessories (including manuals & warranty cards).

The Huawei devices (listed in item number 5 below) shall run on Android Operating System.

Issues pertaining to these applications not functioning as they should on the Huawei device, namely, Google Play Store, Gmail, Google Maps, Google Gallery, Chrome, YouTube, Facebook, Instagram, and WhatsApp, exclude the following scenarios: App developer issues (for example, the App developer's decision to cancel or halt the support of the application for "All common devices for all brands"); or Issues relating to the App itself (for example, an application bugs or virus).

The Huawei smartphone is still within two (2) years warranty period from date of purchase, and the tablet is within one (1) years warranty.

The following Huawei devices are eligible for this "Assurance Warranty" Program: P20, P20 Pro, P30, P30 lite, P30 Pro, Mate 20 Porsche Design RS, Mate 20, Mate 20 Pro, Mate 20X, Nova 5T, Nova 3i, Y6 Pro 2019, MediaPad M5 Lite 10, MediaPad T5 10, MediaPad T3 8. (For MediaPad tablets – 1 year warranty from date of purchase)

The Huawei device shall be in working condition and free from defect or damage resulting from: Use of the device in a manner contrary to instructions of the manual; End-user's misuse, abuse, negligence or accident; Disassembling or repair without Huawei's prior authorization; or Spillage of food or liquids, dropping the device, or burning of printed circuit board. .

Notwithstanding the above, Challenger Technologies Ltd reserve the right to decline service to any device that is damaged and/or is not up to par and/or does not meet the eligibility criteria set above.

(4) The customer shall send in his Huawei device to professional Service Centers, if the App is determined to "not be functioning as it should" by professional Service Centers (the two centers written in section 2), the customer is entitled to seek a full refund from Best Denki within fourteen (14) days from the date of testing. In the process of seeking a refund, the customer shall provide Challenger Technologies Ltd with the said Huawei device along with the purchase receipt and other required documentation or information with reference to the date and place of purchase.

(5) Challenger Technologies Ltd shall reserve the right to shorten or extend the Program Period at its sole discretion without prior notice.